Milkweed for Monarchs Event a Success!
THANK YOU to our 45 volunteers for their hard work and dedication on Saturday, August 1st, 2015 in planting nearly 400 plants in our new Monarch Garden at Lake Manawa State Park!
A total of 288 milkweed plants and 100 accompanying native perennial species were planted with soil and compost and mulched in just under two hours!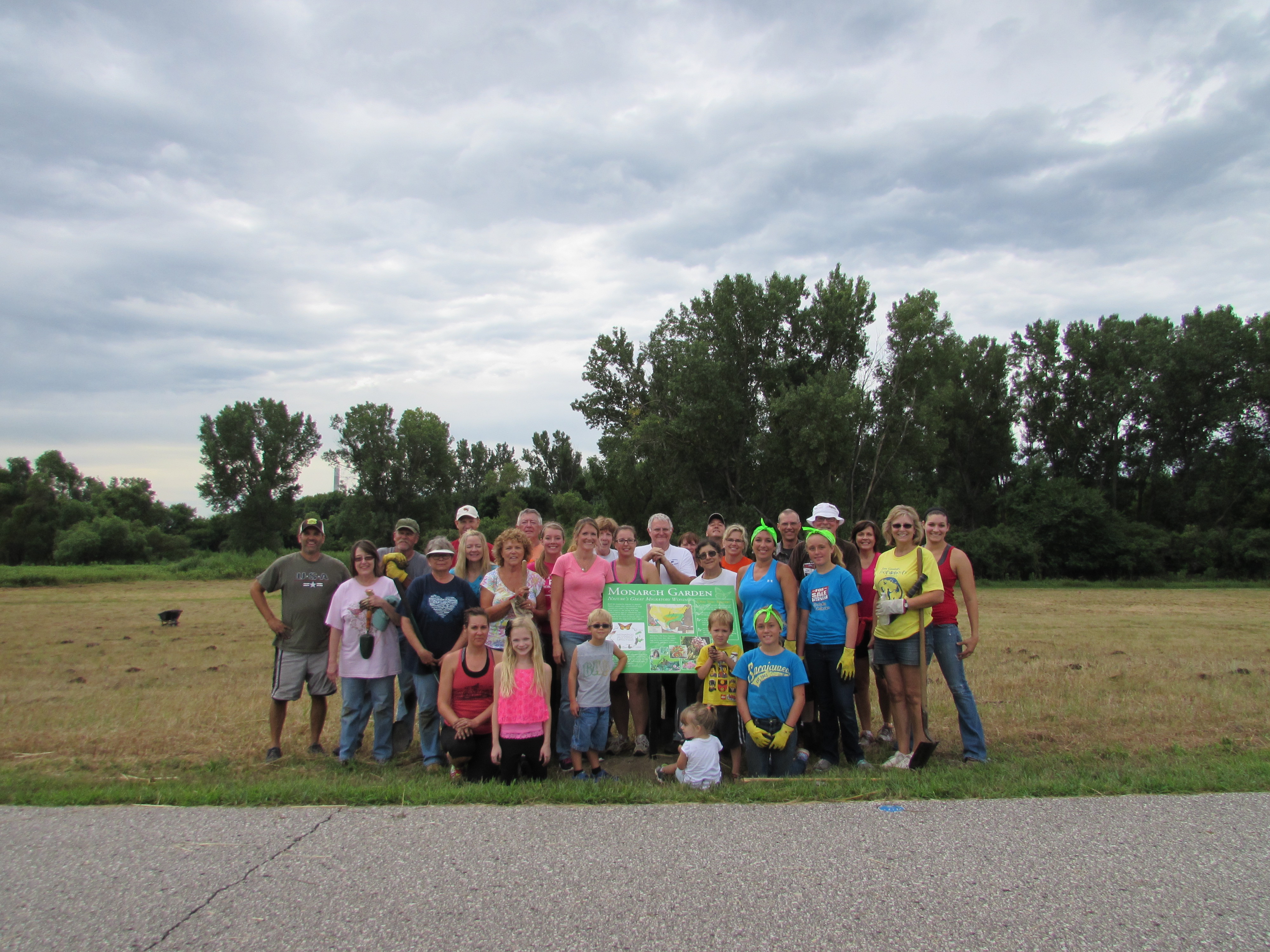 Photos of the event can be found on the Friends of Lake Manawa Facebook page:
There was a nice write-up today of the event in the Council Bluffs Daily NonPareil paper.
Perennials were purchased through Diversity Farms in Iowa
(712) 683-5555
.  We planted 100 native perennials which consisted of the following 14 types of plants:
Prairie Phlox, Snowy Goldenrod, LF Beardstongue, Loco Weed, Dotted Blazing Star, Rough Blazing Star, Pale Purple Coneflower, Aromatic Aster, Skyblue Aster, Lead Plant, Silkey Aster, Ground Plum, Cream Indigo, and P. Coreopsis
Diversity Farms also sells a variety of milkweed.
Milkweed was obtained through Monarch Watch. To add your email to the Monarch Watch's Spring Sale list, email
milkweed@monarchwatch.org
and put "Spring Sale" in the subject line.
To order milkweed this fall, go to this link on August 15th and their milkweed order form will be available.  You can order a flat of 33 milkweed plants for $66 which includes shipping to your home.
For information on obtaining a grant for milkweed through Monarch Watch, visit:
To designate your home garden as a "Monarch Waystation", see this link:
In addition to adding 400 plants to the Milkweed Garden, Friends of Lake Manawa unveiled a new "Monarch Garden" outdoor, permanent sign — intended to educate the public about the Monarch lifecycle.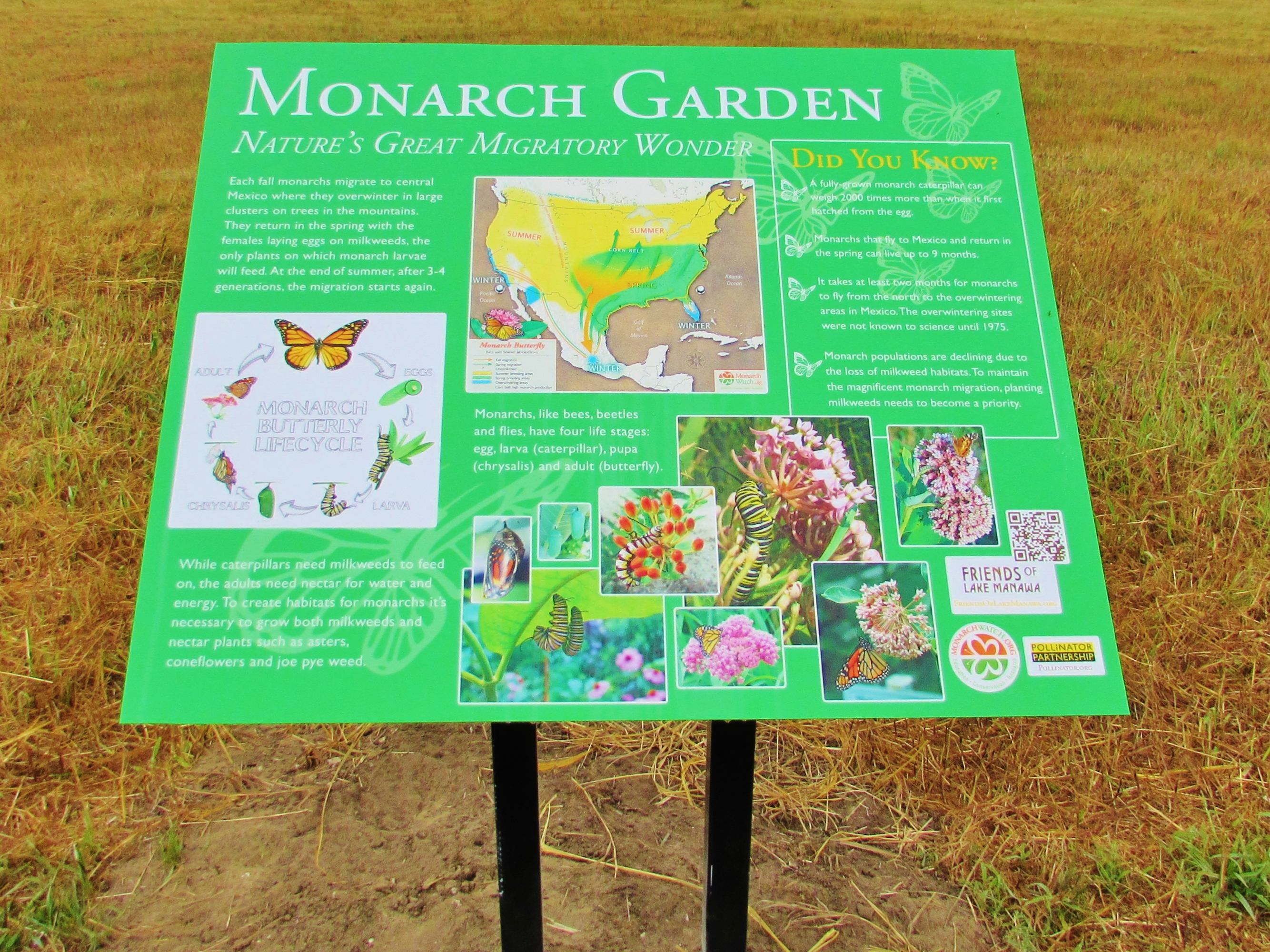 Friends of Lake Manawa hopes to make this an annual event, and we hope you will join us again next year!
Again, a SINCERE THANK YOU for your help in saving the Monarchs!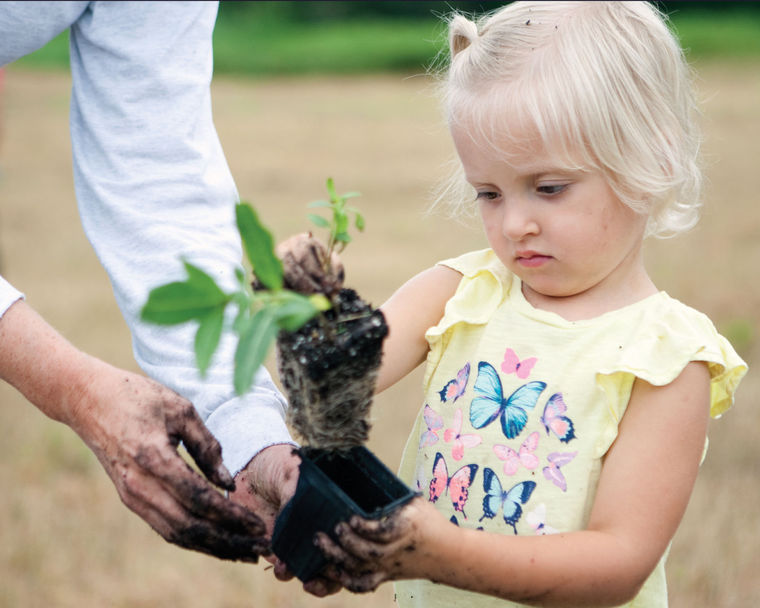 Information about the Monarch:
​
Milkweed is the only food that Monarch caterpillars will eat. Monarch butterflies eat the nectar from perennials on their fall migration to Mexico, where they overwinter, and then return to the U.S. to lay eggs in the spring and summer.
Monarch butterflies have seen a staggering decline in their numbers in the last 20 years, losing more than 90 percent of their population. This is mainly due to the eradication of milkweed (the only thing they feed on) because of the use of herbicides like Round-Up.
To save the Monarchs, every household in the corn belt would need to plant milkweed in their gardens!
Milkweed is a non-invasive species. In fact, only about 1 in 100 milkweed seeds produced by a plant will actually germinate and grow. We can't save the Monarchs without planting milkweed!